We're open!
11/09/16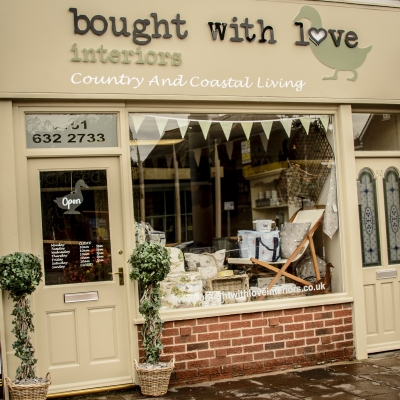 Sitting on my very new chair, behind my custom made pallet counter, I look around and reflect on the last 6 months or so. We opened mid-August and it's been non-stop ever since. The quiet times in the shop are swiftly filled with admin jobs or painting wooden ducks, and lunch is nibbled throughout the day behind the counter!
The shop has been received with welcome arms in Hoylake, adding a welcome independent addition to what is now a bustling high street, which of course, benefits every business here. Both local shoppers and businesses have been so friendly and welcoming, I feel very fortunate to work on such a lovely street. I have a few people to thank. Firstly, RAC painter and decorators, for the fab paint job on the exterior of the shop (painted in Farrow and Ball shade, light Grey).
I would also like to thank Caldy Signs sales.caldysigns@btconnect.com for a brilliant service, expert advice and a lovely sign!
It's been a long journey to get to this point, and it's not been easy, but nothing worth having comes easy, right? The challenges ahead will be many I'm sure, starting with questions like; what do people actually want? What can I provide that will make customers enjoy shopping in our shop, and want to return?
I've tried to apply my shopping philosophy to our shop, in terms of pricing. I like good value and good quality items that I know are different, and not in the high street shops. Sourcing such products can be challenging, but I also like to have a combination of both pre-loved and new products. Our stock is selected to seamlessly blend, coordinate and compliment, any coastal and country home.
If you haven't visited the shop already, we would love to meet you! We have new stock arriving weekly, there's always lots to see. Hope to see you soon!