Seasoning Your Home
08/06/16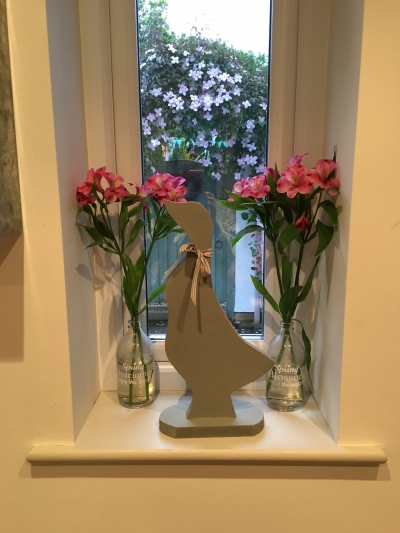 What on earth is seasoning your home I hear you ask??? Well, it's quite simple and keeps things interesting and fresh in your home. If you're the type of person that is house proud but gets bored easily with the way your rooms look, but you can't afford to change furniture, window dressings etc ( quite understandably!) then seasoning is the perfect strategy.
Basically, it involves subtle additions to room(s) that indicate a change or season or forthcoming event. For example, Easter, summer, autumn, Halloween and obviously Christmas. Sure, it involves a little bit of cost, however, clever buys can have a significant impact. Spring – change cushion covers to spring like colours like greens and possibly yellow. Green goes with most colour schemes so it's a safe bet. If you're like me and have millions of the things then store a few away ready to bring out again in the autumn. Next idea to make your home feel spring like is fresh flowers. They don't have to be expensive one, daffodils are perfect. Treat yourself to a bunch or two a week, and try to put some in all the downstairs rooms. On tables or window ledges are the perfect place, they also provide a subtle scent and give the room a focal point.
In the summer, I always like to see fairy lights. I have to confess, I have them in most rooms; in my log basket in the living room, along my little girls bunk beds, along various shelves in the kitchen and around our chalk board in the kitchen. I love to see them – they provide a focal point, subtle lighting but more importantly it gives the feeling of relaxation and makes a room feel 'loved' in my opinion. Also, pack away the throws and excess bedding and think more minimal in each room.
Autumn – probably my favourite time of year, when the nights close in, there's a nip in the air and the garden and landscape is a fiesta of orange and reds. I enjoy marking the arrival of autumn, I love making my home cosy and warm – here's how. Garlands – they are much more readily available now, but ebay, Homesense and garden centres are always worth a try if you're struggling. Some have acorns on, pine cones and some have autumn coloured leaves. They look gorgeous draped across the top of a fireplace, on shelves or twisted around curtain poles (that aren't used because you have a blind at the window). I also like to see them on window sills or across the back of bench seats, to give you just a few ideas.
Warm things up with throws neatly folded over the arms of the sofa and or armchairs. Our house is always cold, so this is a no brainer for us ha ha! Choose throws with texture, knitted, fluffy etc for added warmth and cosy appeal. Also, change cushion covers for knitted ones, tweed, brushed cotton, chunky weaved ones - anything with texture and form.
Of course with the onset of autumn, Halloween soon follows. For me, autumn begins in September. Now as much as I agree that we are becoming more like the USA in how we celebrate Halloween, I have to confess, I love it. I'm sure it's because I have young children but I also enjoy our house looking a little bit fun and different, in the few week leading up to Halloween. There are so many bits and bobs you can but to decorate but I prefer bunting as opposed to window stickers and themed fairy lights (for example pumpkins) instead of spiders hanging from the ceiling. Outside the front door, I like to display a pumpkin either side, along with funny looking squashes that come in the most beautiful stripy colours. A few pine cones also scattered around also look effective. More ideas to follow in the blog leading up to Halloween.
In the Winter comes Christmas of course, and that's a whole blog in itself, nearer the time!
I hope you've been able to take some ideas from my blog, on how to season your home, enjoy being creative in your home!