Giving your Garden the Summer Vibe
14/06/16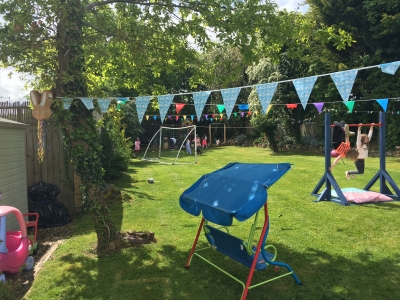 This time of year there are so many cool summer 'housey' things in the shops. When the nights are light and warm and the birds sing until dusk, and the mornings are dewy and mild, we start to think about spending more time outside in the garden. There's nothing better than impromptu BBQ's with friends, who end up staying over, even though they only popped in to drop a card off! Your garden should be relaxing and interesting. Some people are blessed with mature gardens, with character, mature trees and an abundance of flowers and shrubs. Others have what I'd call a 'blank canvas' (I'm thinking a new build, garden). In either case, there are simple and cheap ways that you make your garden a happy, interesting and fun place to be this summer – here's how.
Bunting – for anyone that knows me, this will come as absolutely no surprise! Its genius stuff and can be as cheap or costly as you like. Nothing sings summer more than bunting, in my opinion. On ebay, you can buy 10 metres of waterproof bunting for about £3-£5.00, and there's so much choice too. Fasten from tree to tree, across fencing, trellis, sheds, playhouses, it looks fab anywhere. I prefer multi coloured for my actual garden area, but around our decking, I went for plain lime green to match our cushions. You can buy plain or pattered, small or large flags. I like the effect of bunting so much, I also have it in our house, but that's for another blog!
My next idea for creating the perfect summer garden is fairy lights. They're in all the shops, including all the bargain ones, and most are even solar powered so outdoor plugs aren't even an issue. Why do people think they're just for Christmas????? They add interest, light and give a party vibe. It demonstrates that you've thought about your garden and you care how it looks. It can emphasise certain features like a really pretty tree or an arch. Not that I'd know much about this one but it's also very romantic (husband would rather watch the golf than sit outside having a cuddle under the stars). Instead of never being able to find either the time, money or babysitter for a once a month date night, have it at home instead in the garden (weather permitting obviously). Put fairy lights on the table, battery ones are better for that purpose, and some around the area you will be sitting. Put a few nice warm blankets outside and hey presto – date night a la maison!
My third and final tip for a gorgeous garden, is the use of mess tins. Now this one is more for the slightly younger generation I admit (anyone under 60, ha ha!). I can't see my Mum thinking they're cool, she thinks I've lost the plot when ours come out at BBQ's. On a trip to Cornwall last year with my family, we went to a café in St Ives. It was a cool and trendy place, with sandblasted scaffolding doubling up as shelves, and pallets made into tables. Cutlery was placed on the table in terracotta plant pots – it was a feast for the eyes and imagination. My daughter Rosie, ordered a hot dog and I ordered nachos. What did they both come in? Mess tins! Genius I thought, I'm definitely pinching that idea. They're a style statement, a nod to our military hero's and they don't smash if dropped. I'm not saying everyone should have one, just 2 or 3 dotted around, containing nacho's or nibbles etc. In fact, there's only one down side to them, they have to be hand washed. Find then on ebay, camping shops, Wilko even had some I noticed, in their camping section.
So there you have it, three simple, cheap and effective ideas to get your garden fit for summer – good luck!